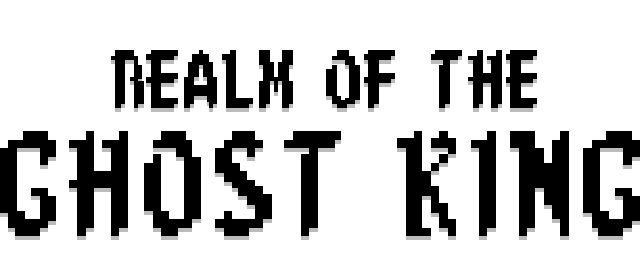 Realm of the Ghost King
Start up your itch.io app to grab the latest version of Realm of the Ghost King. 1.1.0 is a totally free update with new features, general improvements and bug fixes!
Additionally the game is on sale for 25% off! The sale lasts until July 5th for all storefronts.
Read on for the full set of changes in 1.1.0!
NEW FEATURES
UPDATED LEVEL RENDERING. Added a background fade effect.
NOW PLAYABLE: The Ghost King

To Unlock: Defeat The Ghost King

Will be unlocked if you've already done so

Special Attack: Teleport to safety and leave a bomb
Passive Ability: The Crown Protects
NEW MONSTER: Swamp

Unlocked by doing 80+ damage in one run

Will be unlocked if you've already done so

Special Attack: Clone yourself (up to three at once)
Passive Ability: Enemies attacking you will take damage
NEW MONSTER: Phantom

To Unlock: Freeze (Icecap), slime (Glob) or turn (Vlad) 40 total enemies

These are newly tracked stats, so you'll need to accomplish it!

Special Attack: Possess closest enemy for 10 turns (costs 3 souls)
Passive Ability: Start with one soul
FULL GAMEPAD SUPPORT:

Auto-detects your controller once you press a button
Button graphics for XBox 360, XBox One, Playstation 4 and Switch controllers
Menu option allows you to select a specific button graphics if you want
ADDITIONAL FEATURES:

Daily Challenge countdown clock (or countup if you already participated)
Player highlight is always on
Added new resolution: Massive (1440x1080)
Steam Version: Eight new achievements
GAME UPDATES
Updated titlemap colors
Improved camera movement/following
Revised the way controls work (if you rebind movement the menu controls will match)
Simplified keyboard controls menu
Status changes (frozen, slime, possession/turning) now tracked
Small balance tweaks to The Depths (level 7)
Updated to latest version of Electron
BUG FIXES
Fixed specific cases that caused camera jitter
Fixed cases where Moai and exit would be spawned in the same place
Fixed rare case where Moai could block off part of the map
Improved text caching
Files
rotgk-win.zip (64-bit)
73 MB
Version 1.1.0
Jun 21, 2018
rotgk-osx.zip (64-bit)
152 MB
Version 1.1.0
Jun 21, 2018
rotgk-linux.zip (64-bit)
81 MB
Version 1.1.0
Jun 21, 2018
Get Realm of the Ghost King